בית ספר יסודי | Primary school
Grundschule
Self confident learning with a natural jewish approach- this is how we accompany and support our pupils in our primary school. We are convinced that the pursuit of knowledge is inherent in all human beings. In this age of information overload, however, mere knowledge transfer is no longer enough. A good primary school promotes the joy of discovery and creation, the desire to learn and the natural curiosity. Confident, responsible and purposeful.
In our classes with a maximum of 20 children, the pupils learn in an unbiased and friendly environment. Mutual understanding and acceptance shape the atmosphere in the classrooms and in everyday school life. This way we can reach every child and meet their learning needs. In addition to the official government curriculum, we offer a course system that changes every six months. That is designed to awaken new interests and talents within each child.
A private school with a recognition of the state
The Joseph-Carlebach-Bildungshaus is a state-recognised private all-day school with an attached preschool. Our educational goals are aligned with the Hamburg Board of Education. However, as a private institution, we are free to develop and shape our own pedagogical concept. We place particular emphasis on close cooperation between teachers, parents and pupils. In the following we would like to introduce you to what you can expect from our school.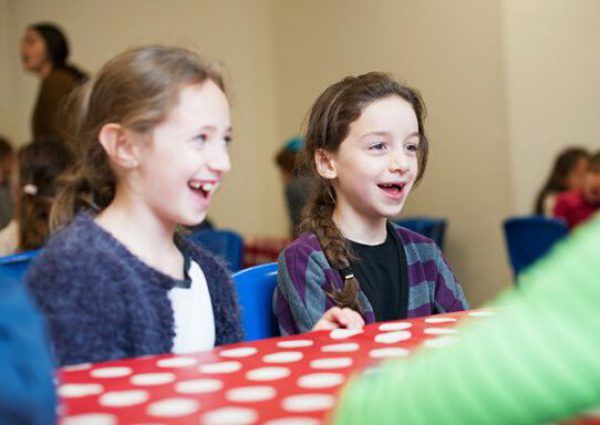 Good reasons for the Bildungshaus
Accompanying the child from kindergarten to high school
Small classes and a comfortable learning environment
Focusing on individuality
Modern teaching in an modern environment
Excellent support and challenge concept – excellent learning outcomes
Qualified teaching staff – constant evaluation and reflection
Reliable all-day
In-house kosher kitchen
Maximum safety for your child
Extended curriculum
Different ways of learning
How long does the memory of mice last? How does a drone work? Some answers are found best outside of school. That is why we regularly use extracurricular learning locations. The Hamburg Artsmuseum, the open-air museum "Kiekeberg", the Hamburg harbour, the Planetarium or "Planten un Blomen" – Hamburg offers a variety of places to inspire different ways of learning. Cooperations enable us to offer unique learning experiences. That is why we work with different facilities and institutions in Hamburg, for example for maths and science. This is only one of our ways to help our students discover their own talents and interests.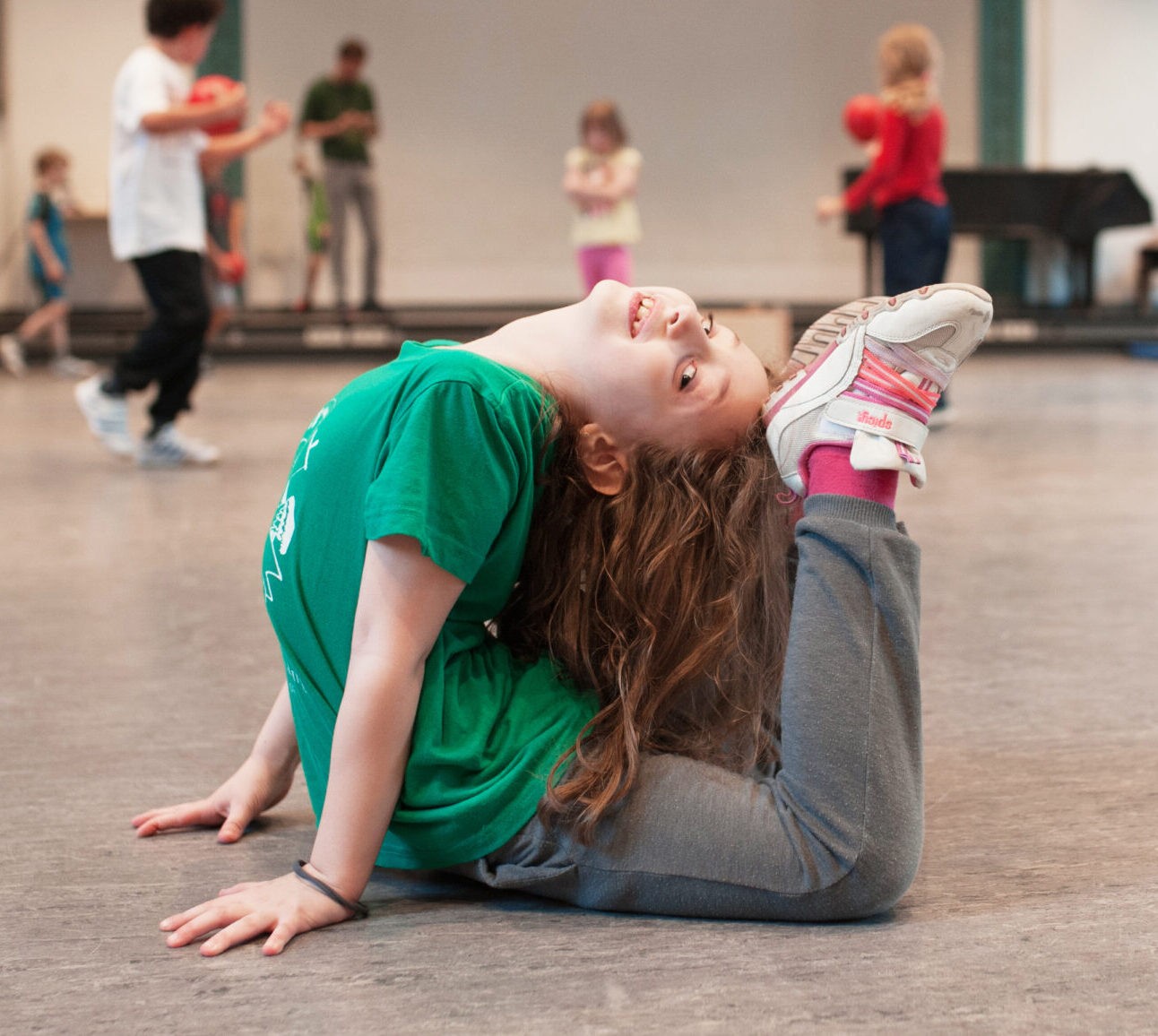 Digital learning in the Bildungshaus
Working digitally is a part of everyday life. Therefore, we train and specialise our teaching staff on the possibilities of digital learning, in order to enable the pupils to move and work safely in a digital world. We use state of the art technology in our class rooms and lessons. The Joseph Carlebach School has a well equiped media room as well as a library. In addition, computers with up-to-date learning software are available in every classroom.
Learning is more than just gaining knowledge
For us, a modern, contemporary concept of learning and education involves more than knowledge.
This is why it is of great importance to us that the pupils learn with and from each other, take responsibility and develop in a way that promotes community.
Encourage talents – strengthen weaknesses
At the Bildungshaus we welcome very different children. As far as possible, we want to offer pupils thebest possible development and educational opportunities. Our concept enables motivated, joyful and successful learning.
We support every child focusing on his or her strengths. If pupils show a special talent, we align the child's learning path accordingly with our gifted classes: a qualified teacher supports the children once a week.
Our individualised support program will help your child with any possible learning gap. Students are being accompanied by supporting teachers. With this targeted support and demand, we open up ways for our pupils to learn independently and correspondently to their very personal abilities. This is done especially through differentiation and individualisation in lessons.
According to our pedagogical concept, the focus is on the best possible development of each individual child. This means that we assess the respective situation of the child in the admission interviews in order to be able to make a statement as to whether it is possible to meet its needs.
A jewish School open for everyone
At the Joseph-Carlebach-Bildungshaus jewish identity is the core of our everyday school life. We do not only celebrate all the jewish holidays together but also teach jewish culture and tradition in the classroom. Our students learn the Hebrew language from the preschool onwards. Our school is open to jewish and non-jewish children. We educate the pupils to become tolerant people who take the diversity of social coexistence for granted.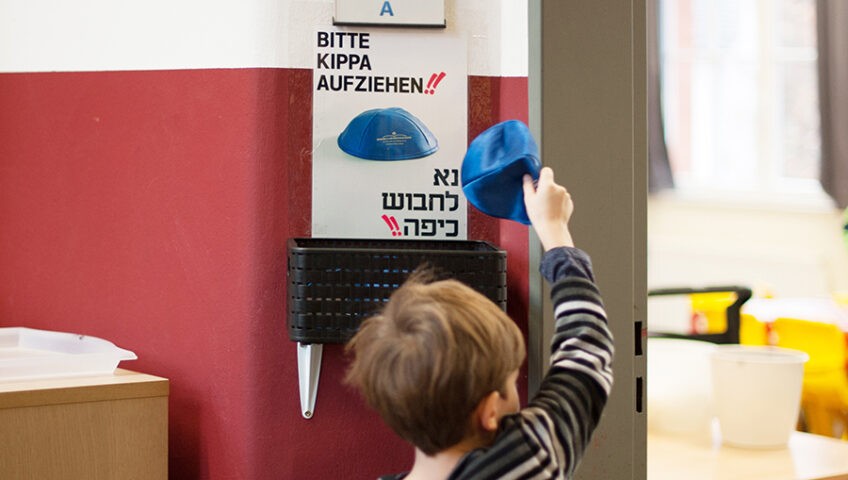 Accepting pupils as they are
We respect every child as an independent personality that needs to be strengthened. We do not support to feed into a "everyone-for-him/herself"-mentality but wish to educate independently thinking, responsible, tolerant personalities with a social consciousness. We pursue this common educational goal in close cooperation with parents, teachers and students.
A meaningful school environment
With us, children are allowed to be different, while at the same time they learn about boundaries – their own, those of the other children as well as the everyday ones. During classes we balance between demanding performance and effort from the children without putting them under too much pressure. In a safe and secure atmosphere, we provide answers to questions of meaning and faith alongside a sound school education.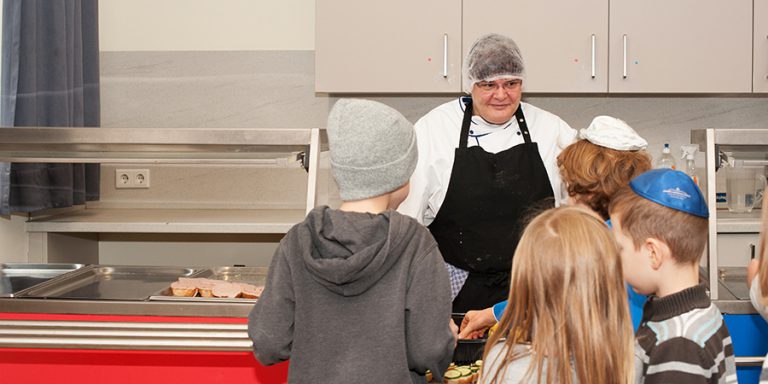 English in primary school