מעון יום|Kindergarten
Kita
In our kindergarten we focus on the children's lives. Therefore, we are trying to answer their different needs as well as possible. We are accompanying the children during their development and supporting them when it comes to developing different skills such as self-confidence or being aware of themselves as well as of others.
We want to enable the children at our kindergarten to experience and getting to know the world with all of their senses. To us education is a process which grows in a trustful environment between the educators and the families. Our trustworthy staff is always there for the children in a sensitive and attentive way. Being true educators, we are encouraging your child with a responsible, motivating and challenging learning atmosphere. Our group concept together with our especially developed focuses of education are building the foundation of our work. You can find out more about it by looking at our concept. Feel free to ask.
We believe that the Joseph-Carlebach kindergarten is one big family. Therefore, we truly support a close contact between the parents or legal guardians and us as we think that its outcome is constructive and winning for both sides. After all, you are the experts of your children.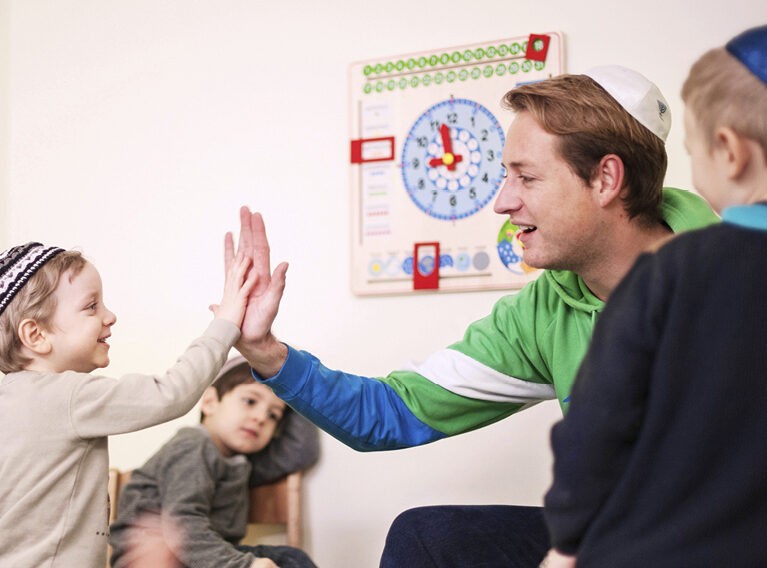 Evaluation support: do we fit to your child's needs?
In case of any uncertainty please do not hesitate talking to us directly. The following questions might help you:
Your child is looking for a comforting, secure and trustworthy relationship?
Your daughter or son wants to play freely in a fun and joyful environment?
She or he likes music?
Your child loves to move around no matter the weather?
Your child is interested in the world, loves to experiment and wants to get to know how everything works?
Your child needs support within her/ his personal development?
Your child might profit from a professional language support?
Our kindergarten groups
We work according to the group concept. Our team tries to build these groups according to the same age levels. It is of key importance to us that your child has both her/ his constant kindergarten group as well as fixed educators. Depending on the groups average age we are working with two to three educators each.
An overview of our groups
Our nursery consists of a maximum of 24 children divided into to groups. The children between the 6. month and the completion of the third life year are part of our Turtle and Elephant group.
On the elementary levelwe are taking care of 40 children at most. From the third year up to the year your child might visit the preschool she/ he will have a place within the Butterfly and Bees group. Around age 5 she/he will be part of our own preschool group, the Foxes.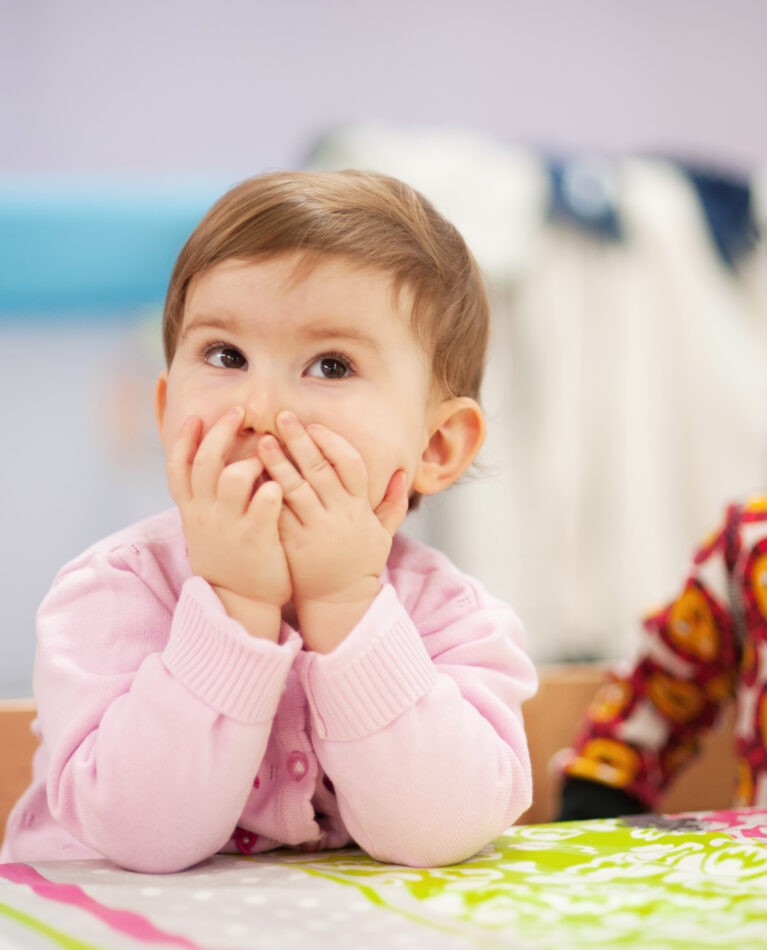 Our educational focus
We are working in accordance to the official educational goals of the city of Hamburg. However, the following points are of most importance when it comes to our kindergarten.
Language development "Everyone is different!"
We are taking part in two intensive language support programs, in order to offer the same chances of learning German to very child. These are: (https://sprach-kitas.fruehe-chancen.de/, http://www.hamburg.de/kita-plus/)
With us, every child learns together with the other children. Yet, our specially trained personal enables every girl or boy according to her/ his level of speaking. As a educational institution we would like to offer your children the space which is necessary to develop its language learning, freely. Our team helps your child in organizing its daily use of language and accompanies her/ him within all the singular steps of development, professionally.
A kindergarten full of movement
The way of working within different skill levels is the foundation of a healthy cognitive and social and emotional development within your child. We believe that learning is interwoven with perception and movement.
This is why we especially support the fundamental psycho-motoric abilities of your children with our "Kindergarten in Movement" program. (http://www.hamburg.de/kinder-und-jugendsport/4011978/auszeichnung-bewegungskita/) We think that childern growing up in a city are being taken of the opportunity to stroll around freely and they, therefore, haven't got the chance to experience movement as they should. The kindergarten of the Joseph Carlebach Bildungshaus conciously offers an alternative for that.
Early support of science and nature as well as mathematics.
Our kindergarteners have the chance to explore and discover the rules of nature with all their senses. We ask them to experiment on a natural and diverse way with the four elements. Even our youngest ones in the nursery have the possibility to profit from such a complete offer. (www.haus-der-kleinen-forscher.de)
Music from an early stage of life on
We love music. Singing, making music and dancing is something our children do according to their age on an every day basis. A trained pedagogue of music supports this early love for music professionally and in accordance with your children's knowledge of it. By this we support rhythm and a sense on how to move as well as offering the opportunity of getting the first instruments to know.
Finances
We are part of the voucher system of the Hamburg Kitagutscheinsystem. You can apply for such a voucher at your local district authority.
Additionally, we are also welcoming children from our surrounding federal states as well as families who pay for themselves. In the case that the vouchers do not cover the needed kindergarten hours we offer you the possibility of additional hours which you can pay directly with us.
We offer the opportunity to get an open space at the Joseph-Carlebach pre- and primary school
If your child needs additional caring times we can offer you free spaces at the Joseph-Carlebach pre- and primary school as well. In case that you should be interested do not hesitate asking us for further information.
Contact and opening hours
Our opening hours are:
Mondays to Thursdays from 7:30 a.m. to 6 p.m.
Fridays from 7:30 a.m. to 2:30 p.m.
Sleeping and resting times are between noon and 2:30 p.m. (We ask you kindly to come in silently if you are picking up your child/children during these times!)
Please keep our closing times in mind!
Our telefone numbers are:
Mrs Radtke's office: 044-44 09 44 30
Kindergarten: 040-44 09 44 50
E-Mail:
Office: kita@jghh.org
Team: team.kita@jghh.org
In case of any questions or in need for a talk, we kindly ask you to make a personal appointment with us.